If you live in an apartment, chances are you've had to deal with noisy neighbors at some point or another. Whether it's a party going on next door or someone playing music loudly in the middle of the night, noise pollution from your neighbors can be a real pain. Thankfully, there are a few things you can do to soundproof an apartment door and also reduce noise in the apartment coming from your neighbors.
Here are 9 Things When Soundproofing your Apartment Door:-
Use A Door Gasket To Seal The Cracks
Place A Door Sweep
Add Mass Loaded Vinyl
Use Gap Foam
Apply Panels Inside Of The Door
Install Soundproofing Composite Material
Place A Fiberboard Over Your Door
Meeting Stiles For Double Doors
Seal All Gaps
Let's Talk Briefly:-
1. Use A Door Gasket To Seal The Cracks
If you are looking for a way to seal the cracks around your door, a door gasket is a great option. Door gaskets are made of flexible material that conforms to the shape of your door, making them ideal for sealing around irregularly shaped openings. The door gasket is easy to install, so you can do it yourself in just a few minutes.
2. Place A Door Sweep
One of the best ways to keep your home energy-efficient is to make sure you have a door sweep installed on all of your exterior doors. This prevents drafts from coming in and also helps to keep your home more comfortable by even out the temperature. A door sweep is a simple but effective way to prevent drafts and seal in warmth (or coolness). It is a strip of material, usually metal or plastic attached to the bottom of a door.
The door sweep presses against the floor, filling the gap between the door and the floor and preventing air from passing through. This simple measure can make a big difference in the comfort of your home by evening out the temperature and preventing drafts.
4. Add Mass loaded vinyl
Mass loaded vinyl is a type of material that is used in order to block sound. It is made up of a vinyl barrier that is backed with a thick layer of mass. This material is typically used in order to block out noise from construction sites, factories, and other loud areas. This type of material is effective in blocking out noise because the mass helps to absorb the sound waves.
5. Use Gap Foam
Gap foam is a type of open-cell spray foam insulation that is commonly used in residential and commercial construction. It's applied using a specialized sprayer that dispenses the foam into small beads that expand and fill the gaps and voids in the structure.
Gap foam has a number of benefits over traditional insulation materials, including its ability to seal tight spaces, its high R-value, and its resistance to mold and mildew. It is environmentally friendly than traditional insulation materials. Gap foam made from recycled materials and does not off-gas.
6. Apply Panels Inside Of The Door
One way to increase the privacy of your home is to apply panels inside of the door. This will help to muffle sound and provide a physical barrier between you and the outside world.
You can find door paneling kits at most home improvement stores. These kits come with everything you need to panel your door, including the panels, trim, and adhesive. Just follow the instructions included in the kit and you'll have a new door in no time!
7.Install Soundproofing Composite Material
If you're looking to reduce the amount of noise in your home, you may want to consider installing soundproofing composite material. This material type is designed to help block out unwanted noise. It is also useful in a variety of applications.
For example, you can use it to line walls, ceilings, and floors. You can also use it to create soundproof barriers around windows and doors. It's no secret that windows and doors are some of the most common sources of noise pollution in homes and workplaces.
But did you know that you can use acoustic caulk to create soundproof barriers around them?
Acoustic caulk is a specialized to reduce noise transmission. When applied properly, it can create an effective barrier that will significantly reduce the amount of noise that comes through windows and doors.
If you're looking for a way to reduce the noise in your home or workplace, acoustic caulk is definitely worth considering. It's easy to apply, and it can make a big difference in the overall noise level.
8. Place A Fiberboard Over Your Door
If you're looking for an easy way to improve your home's security, consider installing a fiberboard door reinforcement. One of the best ways to deter burglars from targeting your home is to install motion-sensor lights. This simple measure can make it much more difficult for an intruder to break into your home, and it's a relatively inexpensive way to improve your peace of mind.
By placing these lights around your property, you can make it much harder for burglars to approach your home undetected. And if they do try to break in, the sudden burst of light will often scare them off.
9. Meeting Stiles For Double Doors
When two sets of doors are required for a single entryway, it is necessary to specify meeting stiles. Meeting stiles known as the vertical members of a door frame that come into contact with each other when the doors are closed.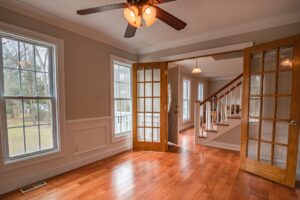 The purpose of meeting stiles is to provide a seal against the elements and to support the hardware that is required to keep the doors closed. Meeting stiles also provide additional security against forced entry and can help to reduce energy costs by maintaining a tight seal against drafts. In some cases, meeting stiles support decorative features such as moldings or panels.
10. Seal All Gaps
It is important to seal all gaps in order to prevent drafts and to maintain a comfortable indoor temperature. Weatherstripping and caulk used to seal gaps around windows and doors. These both typically applied around the perimeter of a door or window. Weatherstripping is a compressible material which fill gaps and prevent air leakage.
It is available in a variety of materials, such as foam, felt, and vinyl. Caulk is a sealant which used to fill gaps and cracks. It is available in a variety of materials, such as silicone, latex, and acrylic.