Social Share Plugins in WordPress are handy and a lot too. Utilizing one may make your website or slow it down otherwise. But with this great list of the Top 8 WordPress Social Share Plugins for your website, you can have one of the best experience in integrating your site to social media.
Best of all, connecting it to the world better and faster. Start picking which plugin suits you best.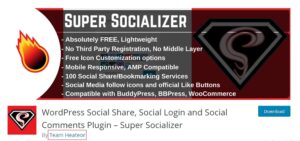 Wanting to get your website on the go even through different social media platforms? Super Socializer has the guts to carry it through. It is a free tool where individuals can log-in, share, engage and even comment all the ideas they want through their favorite social media sites. This you can do even while diving into your website. The plug-in is found in WordPress and is absolutely free, with quick loading time once installed, and an active all-around customer support for those who wanted to get the most out of it. Integrate these powerful features such as Social Share, Social Login, and Social Comments, making the best experience for your curious researcher as you endorse your business.
Super Socializer comes with many different features on the list. Constant updates as well such as free icon customization options and sharing possibilities are supported. This includes Facebook, Linkedin, Twitter, Reddit, and so much more. With their skillful aid in optimizing your website, you can't expect anything better but to try this plug-in and see it for yourself.

Nextend is another powerful plugin that does the job of connecting your client's login from their social media account within your website. Connecting and interacting immediately with your Facebook on your website has never been so easy with the use of these plugins. But what sets Nextend apart is the partnership it has in these four big Social Login providers which are Facebook, Google+, Twitter, and Linkedin PRO. Users will have the convenience of switching between accounts and using it to register it as their login in your website itself. Integration with your existing WordPress login and its registration is a feature it promotes as well.
With Free services or taking into their affordable pricing options, you can take your website to a whole new level of its entrepreneurship and socializing capabilities. Other features are covered as well such as WooCommerce, WordPress Comments, and Translation ready. All of which are ready to engage for that ready customer who wants to take Nextend for an experience and purchase its services.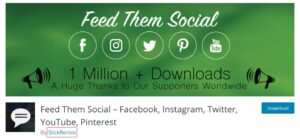 A lot has trusted also the credibility of this one good plugin – Feed them Social. Getting social feeds from multiple social media websites is a good plus for your website. Catering good service and partnership with your Facebook, Instagram, Twitter, Youtube, and Pinterest account is paving better lengths in connectivity and accessibility. Many have given positive comments about the plugin and its support such as simplicity, versatility, and readiness when entertaining support issues. Feed them Social has shown great reputation with its many users for the years.
You can get a handful of demos whenever if you got some doubts but also has the guts to try this one out. Fish it up in www.FeedThemSocial.com.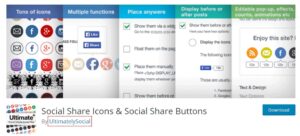 Want to get more social share platforms and a range of multiple stylistic designs on how your social media buttons float, appear or display itself on your site? WordPress has one of the best plugins which is Social Icons Social Buttons. Customize your website from a lot of these features with some animation for an eye-catchy effect, display pop-ups, and visitor subscription that enables them to experience more of your website.
What makes it even better is the idea that it's not just five social share buttons or six, or ten of them that this plugin caters. Over 200+ social media sites are included in the list starting from Facebook, Google+, Linkedin, Youtube, RSS, and many more!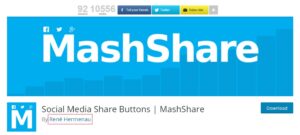 A professional look, an ecosystem for design and customization, and even for social media sharing, MashShare has it for you. One good update is that Twitter is now fully supported in this plugin. Attention for all European users, MashShare has a reputable name of being DSVGO compliant too. This means Data Protection with Social Count Plus. WordPress greatly appreciates one of its plugins with its good credibility.
MashShare has highly appreciated also for speed which helps keep up your site in the desired ranks. Even your privacy and the visitors' are one of its top priority. If you want something new, MashShare has plenty other features and 23 freeadd-ons that make its name the best too. Try hearing it out at www.Mashable.com.
Interaction-wise, but Social Share Buttons do make all the fuss and beauty on the website. That's the time Social Pug gets its edge into it. For those who are familiar with Social Pug, this is the very plugin this website is using to interact with social media platforms. It supports four main social media share networks which are Facebook, Twitter, Google+, and Pinterest. If you are familiar with social media share count, this feature allows you to evaluate your website by providing social media proof which in return increases your site's credibility. They are just actually the number of posts on social share counts which does include Twitter in the list.
Most of its main features are "Before and After Content Share Buttons", "Floating Sidebar Share Buttons", and "Share Counts and Total Share Counts". These features are very handy. If you try to study it more, you can really see a lot of things that can greatly benefit your website for a better page rank and popularity.
If you want built-in custom icons, Kiwi Social Share is far the easiest plugin that can provide you that which is highly recommended in WordPress. There are a lot of social media networks that you can choose from such asFacebook, Twitter, Linkedin, Reddit, Pinterest, Google+ and Email. Best of all, eye-catching designs are just a piece of cake for any regular user for it is built for those who wanted it easyand fast, but reliable.
With other plugin options such as four different skins for your website to choose from, a friendly approach or pill style effect, and amazing loading speed, Kiwi has made it simple for the WordPress beginner. Start being a pro and be one as you engage your website's social media share buttons with Kiwi Social Share.
Lastly will be AccessPress Social Share. With this free plugin, you can have access to getting your website to share its content on one of the major social media networks. These are Facebook, Twitter, Google+, Pinterest, Linkedin, and Digg. In a few minutes after installation, you can get to choose from five beautifully designed themes, ready for display. Its designs can create a social-share-friendly atmosphere which can help boost your reach even more.
Other key features that it endorses the latest use of APIs to gather data, its auto-updates on its APIs, Cache setting, Shortcode and its Fully responsive and compatible interface. You can get a peek into looking at a youtube video about AccessPress Social Share to get more of the best experience it can offer.